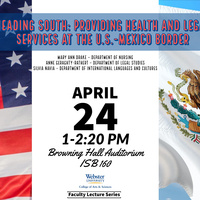 "Heading South: Providing Health and Legal Services at the U.S.-Mexico Border" Presented by: Mary Ann Drake – Department of NursingAnne Geraghty-Rathert –...
Tom Lange (BA '07), assistant vice president, Corporate Communications for Union Pacific and School of Communications advisory board member will present,...
Are you ready to see how it ends?! We're taking a trip to Ronnie's to see the premiere of Avengers: Endgame. Buy your ticket today at the UC Information Desk...