Solar Eclipse Celebration
Webster University's Department of Biological Sciences and the College of Arts and Sciences will host festivities celebrating and observing the full solar eclipse on Monday, Aug. 21, 2017.
webster.edu/eclipse | #WebsterEclipse
Webster's home campus in Webster Groves is right in the path of the totality, which is the narrow path where the moon completely blocks out the sun.
Eclipse Events Planned Aug. 21
Astronomy enthusiasts, friends, family, students and colleagues are all invited to join friends at the Webster Groves campus to observe this rare, beautiful celestial phenomenon.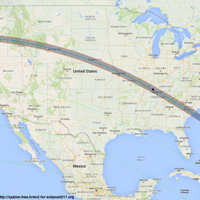 The path of the eclipse across the U.S.
(Click image for larger version.)
Festivities commence at 11 a.m. in the East Academic Building, with refreshments and educational presentations by our Webster professors who will discuss how lunar eclipses affect birds and insects, how it appears in religions, and the historical signifigance behind this event.
Stay tuned for kid-friendly science activities, take tours of Browning Hall (our new science building) and learn expert photography tips.
Then pick up a complimentary pair of safety glasses before everyone heads across the street to the top level of the Garden Avenue parking garage to view the eclipse.
The eclipse will occur in totality at 1:17 p.m. Central Time, and the darkness will last for approximately 1 minute and 15 seconds. With an eclipse toast on the garage rooftop, we will complete the day's celebration.
This won't happen again near St. Louis until April 8, 2024, so now is your chance to participate! Come watch the action with us and celebrate science.
For more on the eclipse and expanded versions of the eclipse path pictured in this post, visit eclipse2017.org.
Monday, August 21, 2017 at 11:00am to 1:30pm
East Academic Building
545 Garden Ave. 63119